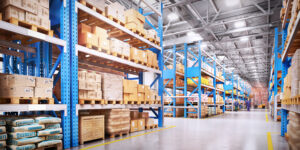 Many years of experience in managing many consignment warehouses in the European Union, using a modern ERP system synchronized with a B2B system dedicated to Polsaros, and the Elemica portal.
Polsaros has many years of experience in warehouses management, leased from our end Customers or from warehouse operators in various European countries.
Our specific competence is the management of consignment warehouses (VMOI type) in various European countries via the B2B portal of Elemica.
To ensure the quantitative security of delivered raw materials, we store them in the areas of bonded warehouses or temporary storage warehouses in various regions of Poland. We work with warehouses located in close proximity to each country border and we make the most favorable choice depending on the Customer's location. When designing entire logistic chain, we point out where it is supposed to build a warehouse for particular project, so that ultimate logistics is cost-effective.
The ERP system and B2B modules enable us to continuously monitor stock levels in all warehouses. These are supervised basing on Customer's data of goods/raw materials consumption. By coordinating this process, we create accurate projections for your orders.
Raw materials are stored in accordance with recommendations in Material Safety Data Sheets (MSDS), as well as in accordance with health and safety, fire protection and environmental regulations.
Polsaros has many years of experience in the effective management of repackaging of raw materials to such forms as are required by end customers, i.a. transfering, liquidifaction (melting), heating. For this purpose, we develop full documentation and monitoring of these processes.
We have experience in storing raw materials in various packaging forms: pallets (wooden, plastic, metal); boxes/crates (wooden, plastic, metal), big bags.
There are also provided after-sales services, such as collection of empty packaging from Customers, disposal or recycling of generated waste.