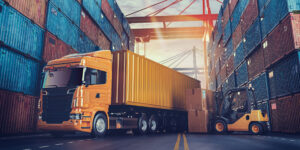 We deal with supply and management, followed by the entire logistics chain from the manufacturer to the customer's production plants, using various types of transport.
For 10 years, Polsaros has been offering its Customers comprehensive management of the entire logistic chain, from the plants of raw material producers to the places indicated by them, i.e. external warehouses or production plants.
We have gained and are constantly supplementing our experience and skills in the effective management of various types of transport: road, rail, sea. Depending on the needs, we use conventional, intermodal, multimodal and combined transport. Our deliveries include distribution of products in various forms of packaging such as big bags, paper bags, metal boxes (e.g. Goodpack, GPS), flexi tanks, tank containers or liner bags.
Conducted are LTL and FTL deliveries of logistic units from 25 up to 24 000 kg.
In the field of transport of raw materials delivered from other continents in sea containers, we cooperate with the largest shipping lines as well as with container terminals in ports of loading and Europe, particularly in Polish ports.
Our Commercial and Logistics Department has knowledge and experience in transporting neutral and hazardous materials from various regions of the world.
Our commercial offers for logistic services are tailored to the individual needs of Customers. We have full control over the implementation of the contracted services and Customers receive full information about their status electronically.
Polsaros has contracted consulting services on changes in regulatory requirements regarding transport of hazardous materials in all types of transport and packaging.
We continuously improve the quality of logistic services and optimize their costs, adjusting them to the current market prices. Thanks to the experience gained, we can offer Client various solutions tailored to its current needs.
CUSTOMS SERVICES
The logistic processes managed by Polsaros take into account the undertaking of customs activities, which, on the one hand, enable a smooth process of goods flow, and, on the other, optimize costs related to customs and tax duties. The flow of our goods is related to their transportation under the transit procedure, release for free circulation in the EU, placing them in a temporary storage or customs warehouse, export and re-exportation.
ECOLOGICAL BUSINESS
Polsaros Sp. z o.o. is constantly striving to minimize the amount of paper used.
We settle accounts with all customers who have agreed to it by means of electronic invoices – by generating them directly from our ERP system and sending by e-mail or entering invoices directly into the Customer's system, using appropriate B2B portals. We have also introduced electronic invoice flow with our suppliers of services and goods – whenever possible. Our operation in this area is efficient and effective since it is systematized by one of the working instructions (J_PG_ZS_01_I_06 Invoicing).
During our regular operational meetings, we jointly determine which documents do not require printing and can function in an electronic version on an internal drive of the company. Documents that need to be printed out (e.g. due to customs and fiscal regulations), we try to print on both sides.